The White House urges Google, Microsoft and other leading American AI companies to promise "harmless development"
According to reports, under the pressure of the White House, leading American AI companies such as OpenAI, Microsoft(343.77, -3.10, -0.89%) , Google(120.31, 0.78, 0.65%) will make a public commitment to the society on Friday local time to develop AI in a responsible manner.
Not long ago, the Biden administration warned American AI companies to ensure that this new technology will not harm society.
This will be an active commitment by technology companies, not a mandatory requirement of the Biden administration, which also shows that the Biden administration is limited in what it can do to ensure that AI is not misused.
The U.S. Congress is preparing to formulate new laws for AI. Members of Congress have recently met many times to learn about AI technology. However, it may be difficult for members of Congress to reach a consensus on how to restrain AI companies in the future.
In addition to AI companies, the White House will also announce some commitments and plans for the development of AI technology on Friday.
According to reports, in May this year, leading American AI companies participated in a meeting convened by Vice President Harris. Harris and other White House officials have told the companies that they have a responsibility to ensure the safe development of AI technology.
White House chief of staff Jeff Zients said that the United States may be slower to establish a regulatory process for AI, but all walks of life cannot wait another year or two.
According to a draft of the White House document, the guarantees made by these AI companies will continue until the US Congress formally enacts new AI laws. The guarantees of AI vendors mainly focus on the latest generative AI (such as ChatGPT) and AI large language models.
Sources said that the White House and technology companies' commitment documents may still be revised before they are officially released on Friday. A White House spokesman declined to comment.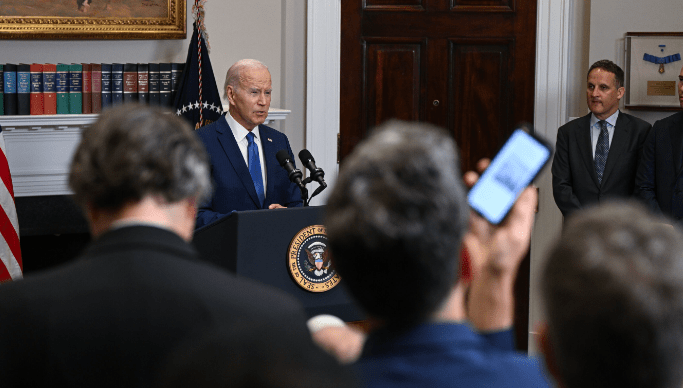 At present, American technology giants are fiercely competing for AI technology, but they also warn that AI may bring unpredictable risks.
Previously, the Biden administration issued some guidance documents related to the development of AI technology. For example, the National Institute of Standards and Technology communicated with leading companies in the technology industry for several months and formulated a "risk management framework" for AI technology.
In the commitment document released Friday, the White House will propose commitments including AI safety, social responsibility, and more, some of which are as follows:
– Enterprises allow independent experts to let AI models deliberately perform malicious behaviors, so-called "red team testing";
– Businesses share AI security information with governments and other companies;
– use watermarking technology in audio and video content in order to identify whether it is created by AI;
— AI companies investing in cybersecurity;
——Encourage third-party companies to discover system security vulnerabilities;
——Report AI social risks externally, such as information bias and inappropriate application;
——Put the social risk research of AI in a more important position;
——Use the most advanced "edge computing AI system" to solve urgent problems facing society.
OpenAI, Microsoft and Google declined to comment on those commitments.
In terms of AI technology, the governments of many countries around the world have called for the establishment of a globally unified regulatory framework.
Earlier at the summit in Japan, the Western Group of Seven stated that it would coordinate AI technology regulation among member states. In addition, before the end of the year, the UK will hold an international summit on AI.
However, it should be pointed out that AI technology is developing very rapidly at present, manufacturers are chasing each other, and the construction of the global AI regulatory system has lagged far behind the development of technology.
Against this background, governments of various countries hope that leading AI companies can first "control themselves".
In the legislative process, the EU's "AI Law" is ahead of the legislation of the US Congress, but before it is officially promulgated, EU countries are also aware of the need for AI companies to make voluntary commitments.
In the past three months, Thierry Breton, the European Commissioner responsible for the internal market, visited a number of technology companies. He called on AI development companies to reach an "AI Convention" that includes some non-binding normative development guidelines.